Initial Setup
Click on Setup Admin
You will see options in Setup Admin for HOA setup, creating users , creating and assigning security roles, reviewing owner registrations etc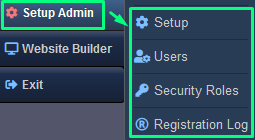 HOA Setup
In this module, you have the sections for Address, Contact Information, Financials Info, Payment Gateway, Administration Contacts Setup and New User Registration.
Enter the Address and Contact Information for the HOA in the Address and Contact Information sections. This information will be shown on your Website created through Website Builder.
You need to create a Stripe Account by clicking on the Stripe Button.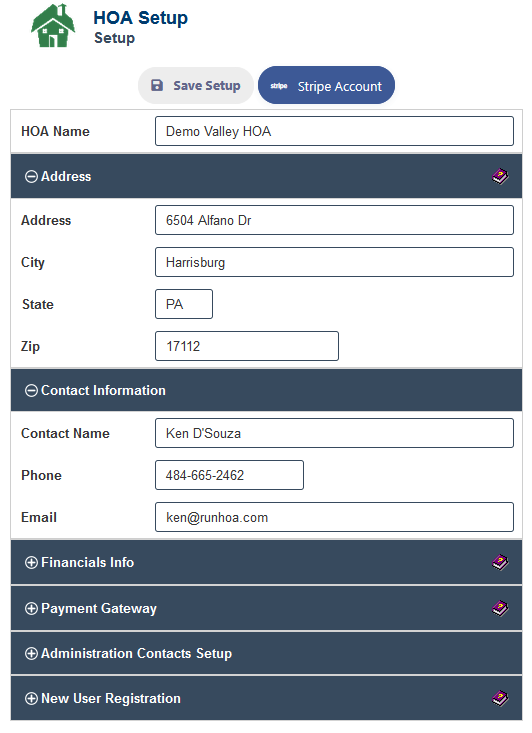 Financial Info
In this section, select the financial year prior to starting Accounting and Budgeting. Let's say that you want to do Budgeting for the Year 2021 when you are in the HOA Accounting Year 2020. You can change the HOA Year to 2021, get the Budgeting done and then change the Year back to 2020. The FY Year for Accounting will be from 1st January to 31st December.
The other columns are the default accounts which will be used in your Financials. It comes preset, but you can change it.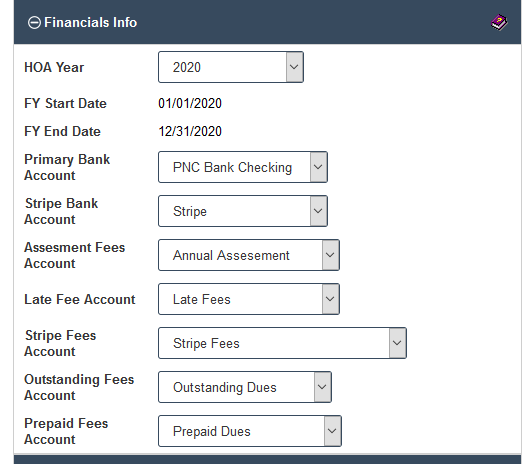 Payment Gateway
RunHOA uses Stripe as the Payment Processor which allows collection of dues with Credit Cards, Debit Cards or Electronic Checks (ACH).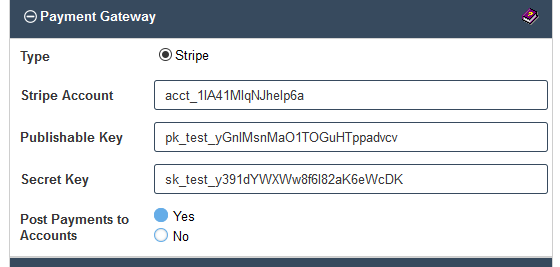 Administration Contact Setup
Various modules can have different contact information. The Contact Name and Contact Email can be set up here.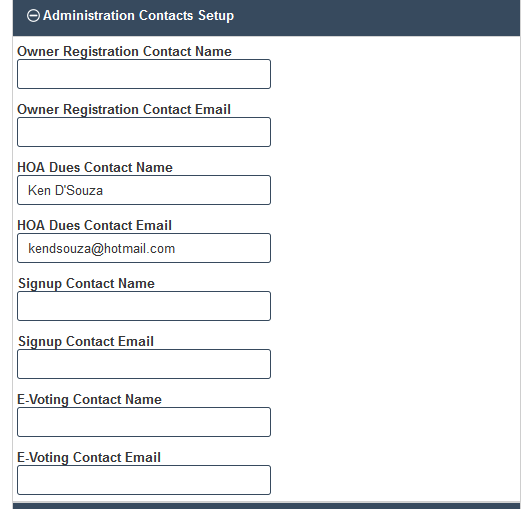 New User Registration
Who can Register Online?
Any User who registers on the New User Registration option on the Login Screen will be restricted by the setting here.
Note: An Administrator can create users outside of this setting, overriding this setting. This applies only to Online New User Registration.
There are 2 Settings.
1. You can disable New User Registration
2. You can restrict it to a default role e.g HOA Owner Role


Default Role for New User Registration
Default Role is the Security Role to be assigned to new users when users sign up online. This should be a role with limited privileges. Look up Create Security Roles for more information.
You can create Security Role which is restricted to certain modules like Unit Directory, HOA Documents, Request Form, Violation Form Calendar and name it as a HOA Owner Role.
Roles with Administrator Privileges should not be set as the default role

Next steps to proceed in the Knowledge Base:
Get your list of units and start by creating your Units Directory
After the Units Directory is setup, enter the Owners for these HOA Units
Set up your Board/Officers Directory and if applicable Committee Directory in the Directory module
Decide who will be assigned to what task in RunHOA and accordingly create the Security Roles.

Create the Users and assign the security roles to them.
Setup your Vendors Information.
Setup up your Calendar Events for the year for your HOA.
You can get your website up and running with the Website Builder
If you have a HOA Community Event coming up and want parents to sign up for the event , you can create a Online Signup Form and distribute it via UR links using Email/Text or embed it on the Website.
The Treasurer can start setting up the Chart of Accounts with the Finance Manager.
Start the HOA Dues Collection process by setting up the HOA Fees. Prior to that setup your Stripe Account.
If you want E-Voting for your HOA, create a ballot with E-Voting Setup
The Document Administrator can start the upload for Newsletters, Meeting Minutes and Governing Documents
Check out the Request Approval Process and the Violations Reporting Process and the Expense Reporting Process
Take a look on how to use Email Blast