You can create any category of fees whether it is Quarterly, Semi-Annual, Annual etc or any Special Fees. You can set Due Dates, Late Dates, Late Payment Charges & Discount Charges as applicable to your HOA.
Click on Create Fees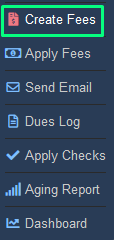 List of Fees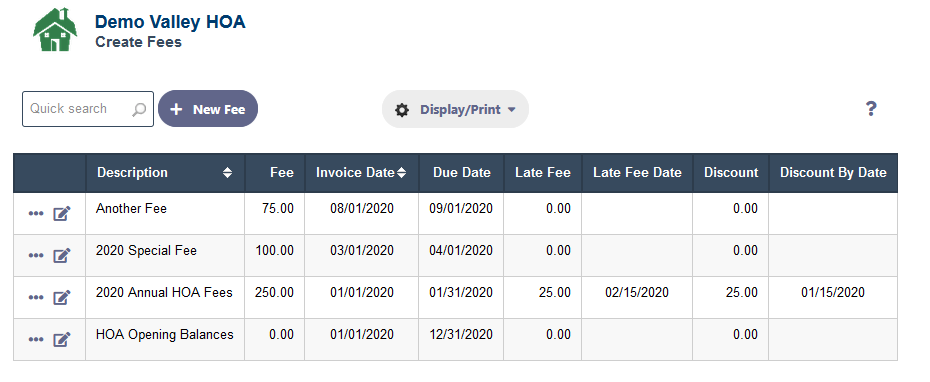 Add, Edit, Delete Fees
Click on Add New to create a new fee, Save to update the fee and Delete to delete the fee.
If a fee is applied to the Unit, you will not be able to change or delete it.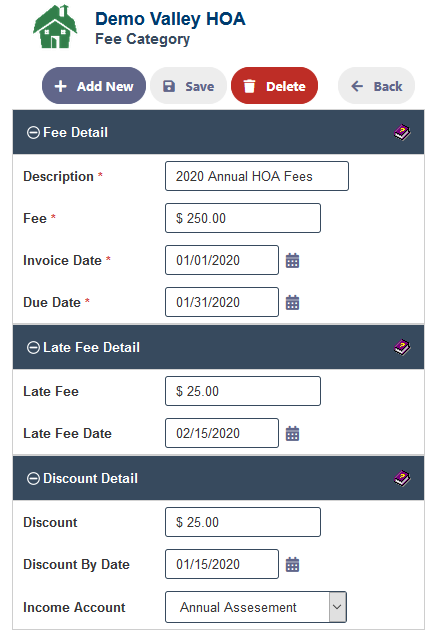 Description
Description of the Fee that will be charged to the Unit.
e.g
HOA 2020 Annual Fees,
HOA 2020 Quarterly Fees,
HOA 2020 Semi Annual Fees.

Note you can create any kind of fee and apply
to the units.
Fee
The Fee amount that will be charged to the units.
Invoice Date
This will be the Invoice Date when the fees are applied to the Unit
Due Date
The date fees become due to be paid.
Late Fee
The Late Fee Amount will be charged to the unit if the fees remain unpaid until the Late Date.
Note..The process Apply fees has to be run again on the Late Date.
Late Fee Date
This is the date after which the late fees will be charged.
You will have to rerun the process after this date to get
the late fees applied.
Discount
This is the discount fee that will be given to the unit until the Discount By Date
Discount By Date
This is the last date for the discount to be applicable.
If you want to the discount to be removed for unpaid
dues, rerun the process after this date.
Income Account
This Account will be used for posting when a payment is made for this Fee Category
Check out the Demo Account here