Overview
This guide will assist you in managing and organizing committees within your HOA. Committees are essential for various HOA operations and activities, and keeping this information up to date is key for effective community management.
There are various HOA tasks and events and you will need a Committee Chair/co-chairs to run them efficiently. Committee chairs are the leaders on the committee who will solicit volunteers for their committee events, work with the Treasurer to gather funds or submit expense reports and report to the President and the rest of the Board on the status of their committee events to ensure that everything is running smoothly.
Committees are created in the Committees module and chairpersons/volunteers are assigned to committees. Committees are also connected to account groups in the Financials if you want committee wise transaction reports.
Accessing the Committees Section
From the main RunHOA dashboard, click on 'Directory'.
Within the directory, select 'Committees' to view existing committees and their members.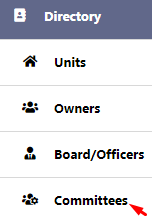 Viewing and Searching for Committees
The 'Committees' page lists all committees with details including the committee name, the chair, and the members.
Use the 'Quick search' bar to find a specific committee or navigate through the list using the pagination tools.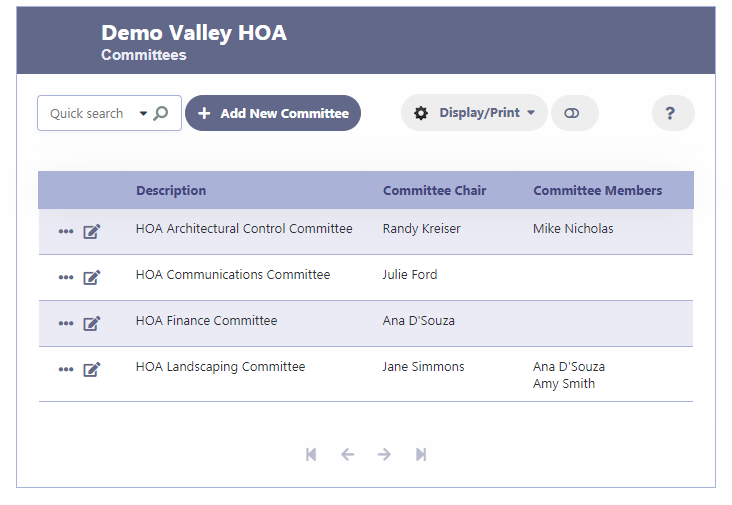 Adding a New Committee
To create a new committee, click on '+ Add New Committee'.
Enter the 'Description' for the new committee, for example, "HOA Landscaping Committee".
Select 'Active' to mark the committee as currently operative.
Choose a 'Committee Chair' from the dropdown list of HOA members.
Add 'Committee Members' by selecting from the dropdown lists.
Editing Committee Information
Click the edit icon (pencil) next to the committee you want to modify.
Update the committee's name, chair, members, and status.
Saving or Deleting Committee Details
Click 'Save' to apply any changes made to a committee's information.
To disband a committee, click on 'Delete' after selecting the appropriate committee.
Tips
Ensure the committee chair and members are kept current to reflect any changes in the committee's structure or responsibilities.
Regularly review the status of committees, updating the directory as they become active or inactive.