With today's technology, we can make everything better while still making things easier and faster. Our communities are honed by today's technology and it either makes them or it breaks them. Home Owners Associations (HOA) in our society need to adopt the right HOA Management System technology which will help them to keep everything running smoothly in their communities and also help connect with their members.
In order to keep up with the post COVID-19 times and of tablets, smartphones and social networking, RunHOA.com came up with the idea of making things better, cheaper and safer for HOA's to manage online. That is why RunHOA has developed an amazing HOA Management System designed for self-managed associations and association managers managing many associations and helps every HOA achieve their objectives in an easier, faster and better way at a fraction of the cost.
HOA Stakeholders
Home Owners, Board Members/Officers and Association Managers are the primary stakeholders in a HOA Community. Below is how using RunHOA as their HOA management system benefits each one of them.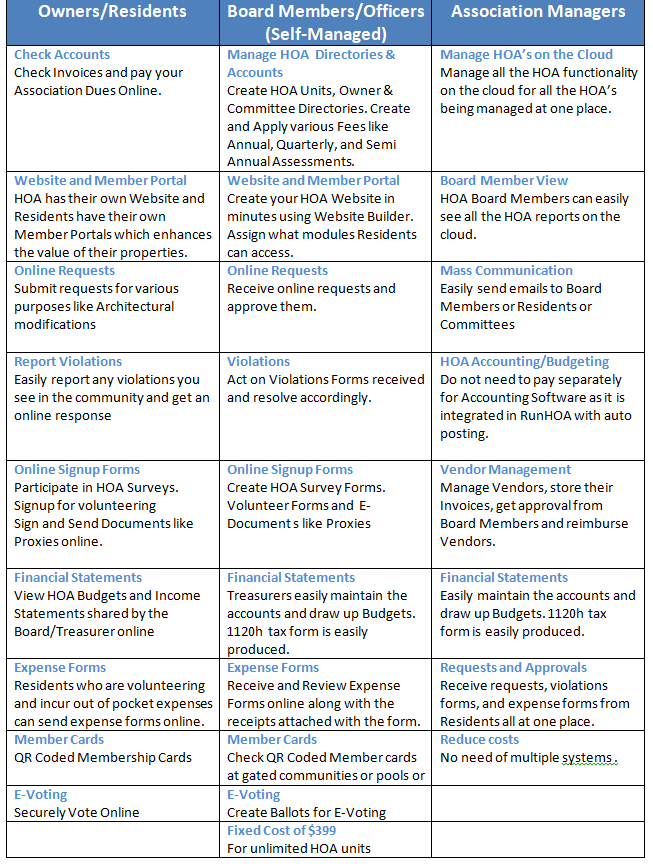 Here are 16 powerful features of RunHOA which is a must have for a HOA Management System
1. HOA Directories
Every HOA has to maintain information about their Units, Owners, Board/Officers, Committees and Vendors. With RunHOA, they no longer have to maintain the data in cumbersome spreadsheets or disconnected database systems. Now they can choose to maintain the data online so they can easily update it and most of all, making sure that all data in that directory is safe and secure. Post Covid-19, HOAs want to have a paperless environment not only to save money but for safety too. Communication & collection of dues with HOA members becomes extremely easy with these directories at hand.

2. Collection of HOA Dues
Say goodbye to the hassle of sending paper coupon books. Members can check their invoices and pay their dues online in their own Member Portal.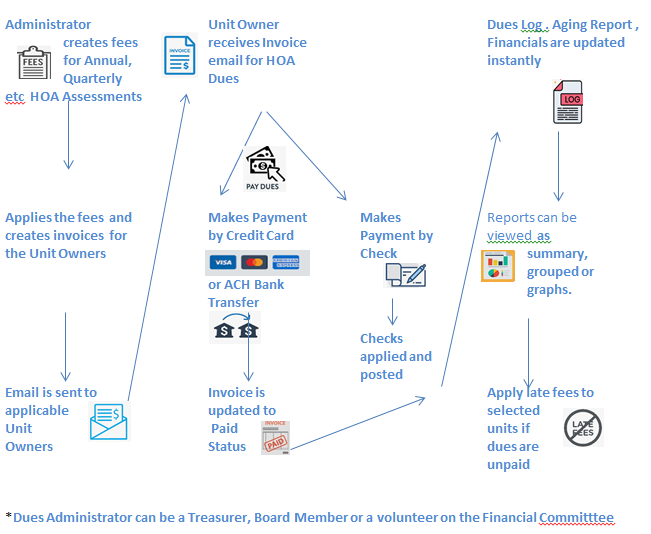 3. HOA Accounting & Budgeting
One of the things that RunHOA.com made sure is for people to easily understand our accounting system. It was designed for HOA organizations to the point that any volunteer can work on it. You can also have easy access to all the financial reports, graphs and even has a dashboard for your treasurer.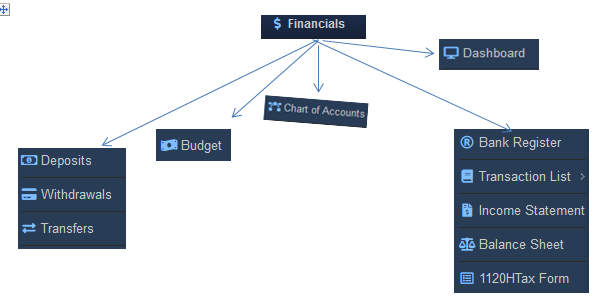 4. Architectural/Landscape Requests
Members can send a Architectural/Landscape requests online and the board can approve it online, no need for all the hassle that comes with the traditional way of doing it.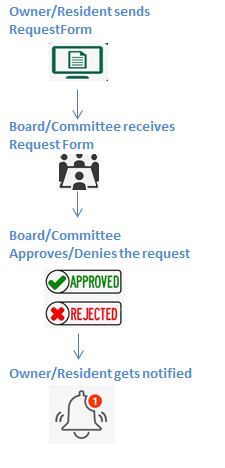 5. HOA Website Builder
Build and publish your desktop/tablet/mobile friendly HOA website in minutes using RunHOA's powerful website builder.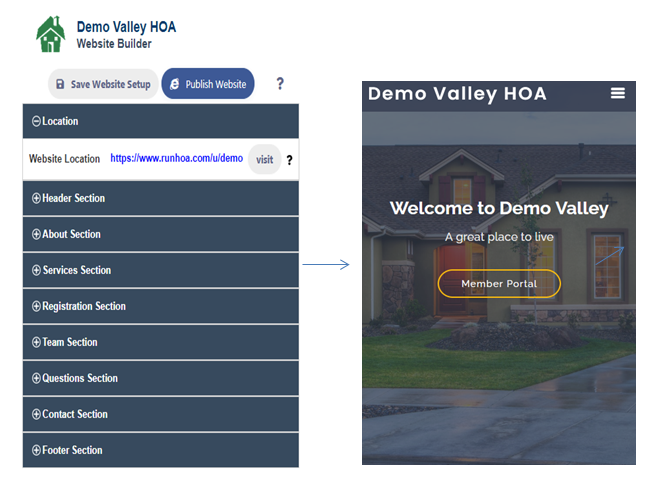 6. HOA Documents
Store and distribute various types of HOA Documents.

7. E-Voting
RunHOA allows your HOA Membership to securely vote in the HOA elections.

8. Signup Forms
You can design professional looking forms with RunHOA's Signup Form Builder within minutes. These custom smart forms can be used for various HOA Surveys, Volunteer Forms & Document E-Signatures.

9. Expense Forms
Every HOA is likely have some sort of expense form reimbursement process in place. If that process involves strings of emails or (even less efficient) paper forms with attached receipts, there's a better way with RunHOA!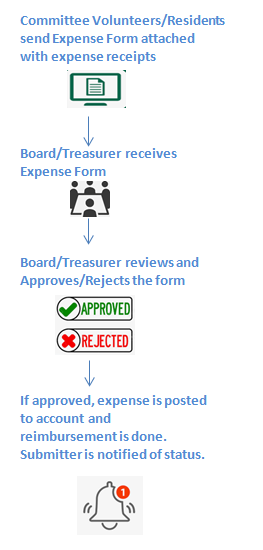 10. Violation Forms
In every HOA, there will be homeowners who break the rules accidentally or intentionally. That's why HOA boards must take non-compliance seriously when they are reported. At the first sign of offense, they must send an HOA violation letter to remind a homeowner of his obligations to the HOA. RunHOA allows an online process for dealing with these violations.
11. HOA Communications
RunHOA's robust & reliable email platform keeps residents, board members & property managers informed.

12. HOA Calendar
RunHOA's Calendar module allows for creating and updating of various HOA events. This calendar can be distributed as a URL or embedded on the website to keep the community informed about the various events.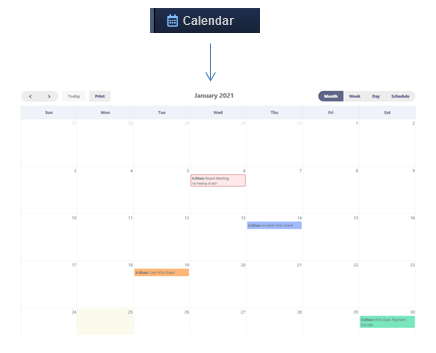 13. Membership Cards
QR Coded Member Cards allows for quick authentication and remote management of information for a gated community or entry into pools or other community events.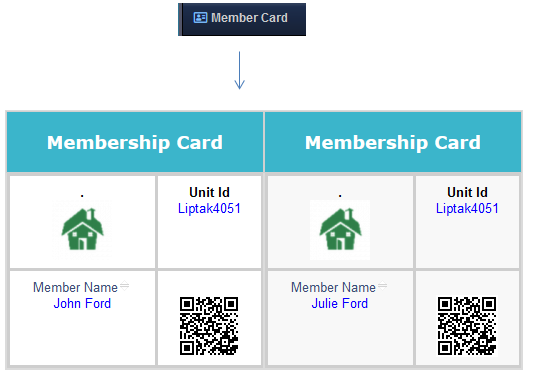 14. Vendor Management
Store all your Vendors information which are contracted with your HOA. Upload vendor invoices and post billing directly to accounts.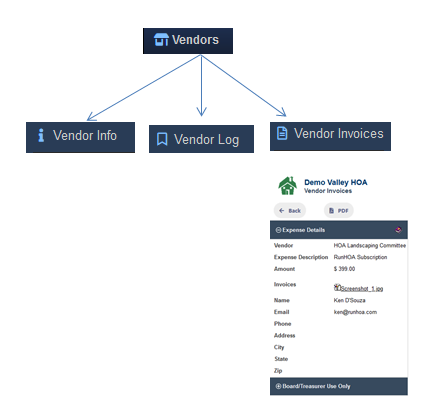 15. Reports
In RunHOA, reports can be printed in various document types. Reports can be printed in detailed, summarized or graph formats.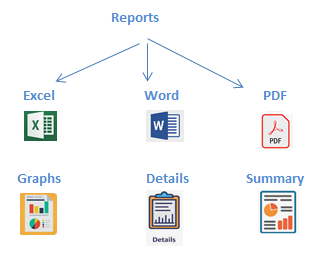 16. Role-Based Security
RunHOA has role-based access control(RBAC) or role-based security which is an approach to restricting system access to authorized users only.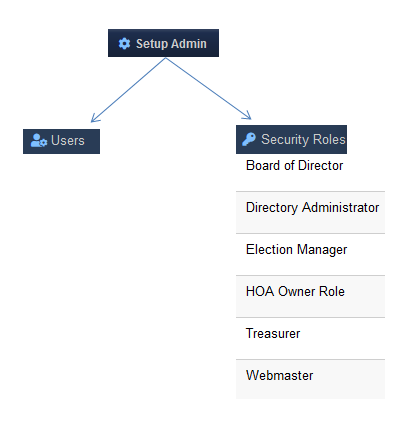 In Conclusion
Everything works smoothly when everything is in order, and we made sure our software does it too. Including all online entries, communication with home owners, keeping the books, managing calendar of events and maintaining the website easily.
RunHOA was developed for the betterment of our communities. We will keep on improving it, adding features, providing value and keeping pace with the future technology.
You can use RunHOA free for 30 days until you feel that you definitely need to replace your existing HOA software and bring more value to your processes. We guarantee you that you will not only like our state of the art system, but you will also see the tremendous value it will bring to your HOA.
And the best part it is, you no longer have to pay per unit for software or invest in multiple software systems. It is a fixed annual fee of $399 for all features and unlimited units.
Ready To Take Your HOA to The Next Level?
Signup for a Free Trial
See how RunHOA can transform your HOA.
Take a minute and sign up for a free trial right here – let us know what you think!
You can also contact us to learn more.
Check out the RunHOA Video
RunHOA is HOA Management Software from CloudInfoSystems