RunHOA Finance Manager from runhoa.com is a complete HOA Accounting and Budgeting Software. It is specifically designed for a HOA Treasurer. The software helps them to rise above their financial management challenges. It also helps them by providing them with easy to use accounting features for their HOA Community. It improves the accuracy of your organization's financial records. It also has very easy setup, intuitive data entry and fabulous reports with beautiful charts.
14 Reasons Why RunHOA Is THE Choice For HOA Accounting
1. It is simple & easy to implement with a ready template.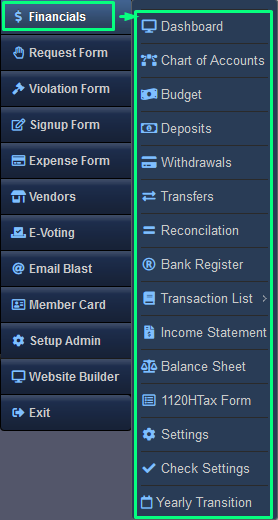 2. Online Accounting
See your HOA financials online anytime, anywhere on your Mac, PC, tablet or mobile phone. No limits.
3. Finance Dashboard
The HOA Finance Dashboard provides HOA Treasurers with an instant visual representation of their financials. It allows for effective cash management, and enables to track expenses in detail to meet and outperform financial objectives of your Home Owner Association. Also the dashboard with graphs ensures shared financial comprehension and engagement among board members. The Treasurer's Dashboard includes Bank Balances and Income Summary
4. Chart of Accounts Made Easy
The chart of accounts is exactly that: a map of your Home Owner Association and its various financial parts. RunHOA allows a well-designed chart of accounts and make it easy to figure out which transactions get recorded in which account. You can get started within minutes by easy entry of your Bank, Income and Expenses Accounts.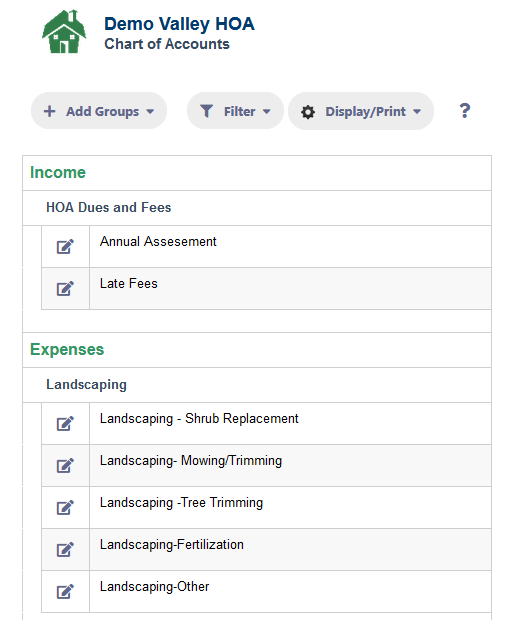 5. Budgeting
With HOA Budgeting all financial decisions is easier than ever. Just select the account and enter the amounts for the school year. You can present a well designed budget to your Board with summaries and charts within minutes.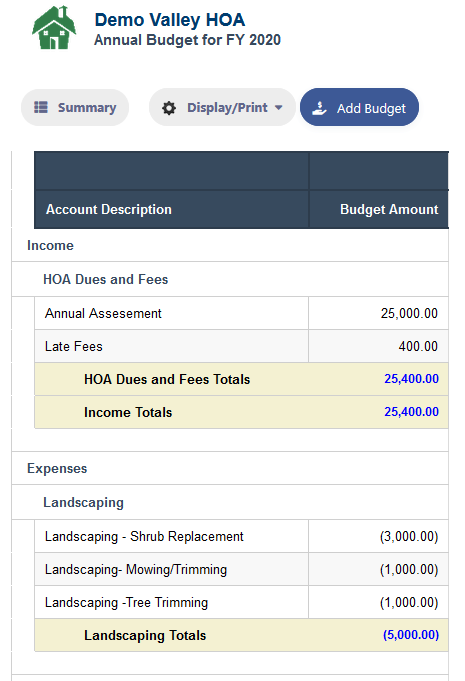 6. Unlimited Transactions for Deposits , Withdrawals & Transfers.
Quick entry of the funds received and funds spent. Easily record transfers between your checking, saving and other investment accounts. You can summarize and chart your deposits, withdrawals and transfers.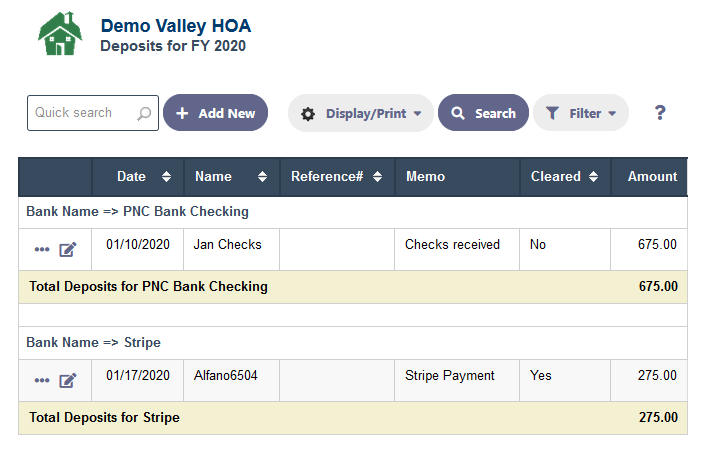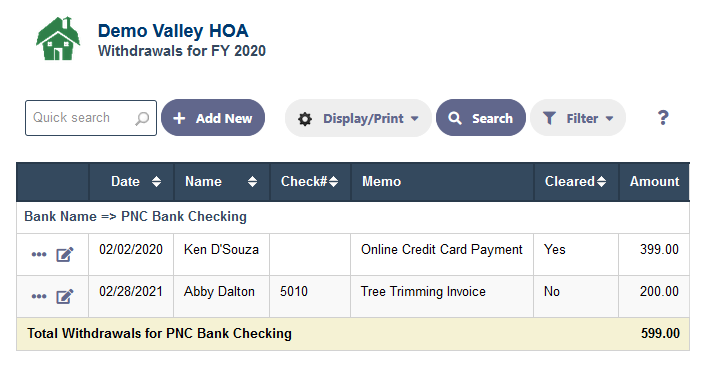 7. Bank Reconcilation
With RunHOA you can easily reconcile instantly the cash balance on your books to the corresponding amount on your HOA's bank statement every month. Any difference will be quick shown and can be easily corrected.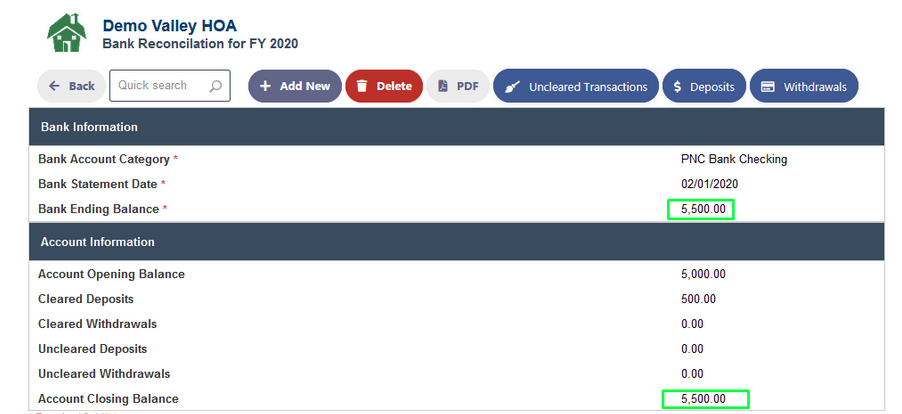 8. Bank Register
Use your bank register to track the deposits and withdrawals and balances as of any date.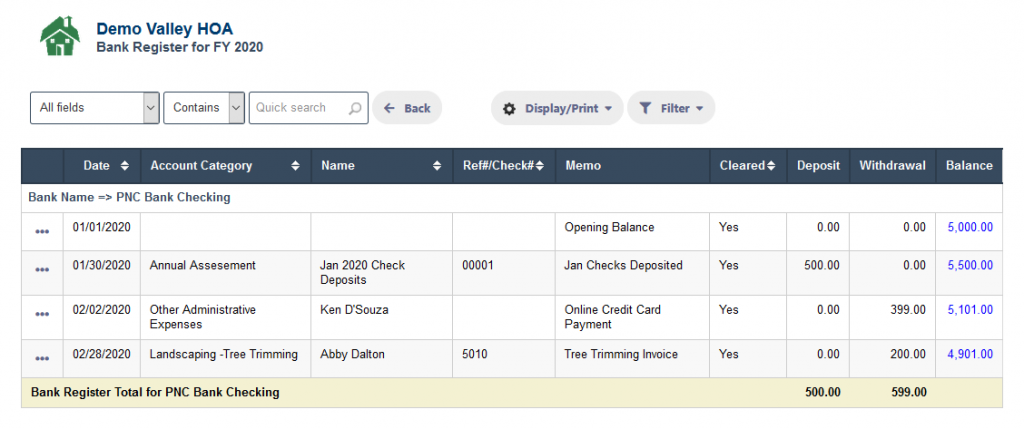 9. Transaction Reports
Flexible Reporting allows you to print your reports in any ways possible for your HOA. No other Accounting Software is capable of doing that.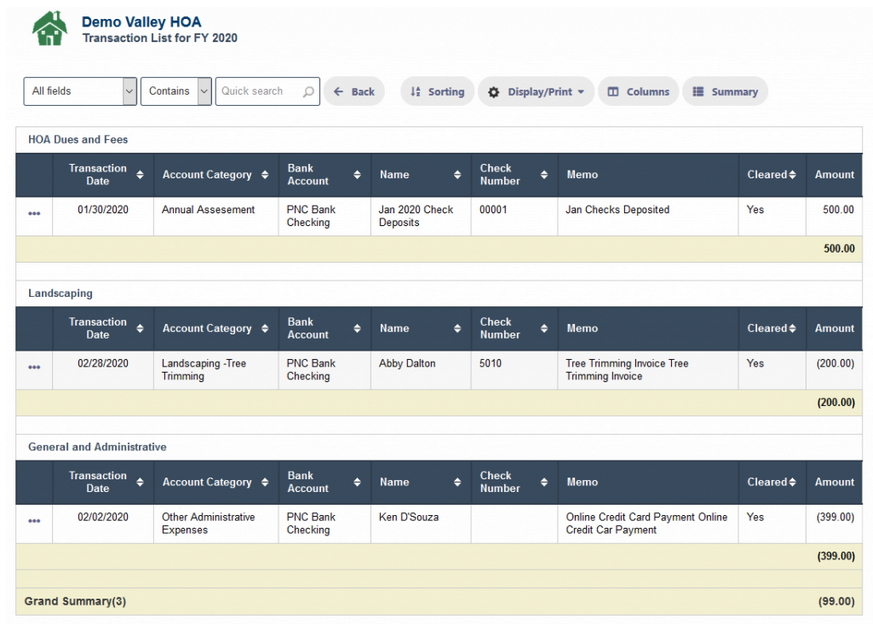 10. Income Statement
View your income statements easily at any point in time. Have it shown with with or without Budget columns. See it graphically with visual charts and summaries. Role Based Security allows to distribute online only the Income Statement to your HOA Members. The Income Statement just like any other Financial Report can be easily exported to a PDF, Excel or Word documents. The Columns feature allows you to pick and choose the display the columns you want to see on the Income Statement so you can have the perfect HOA Treasurer's Report.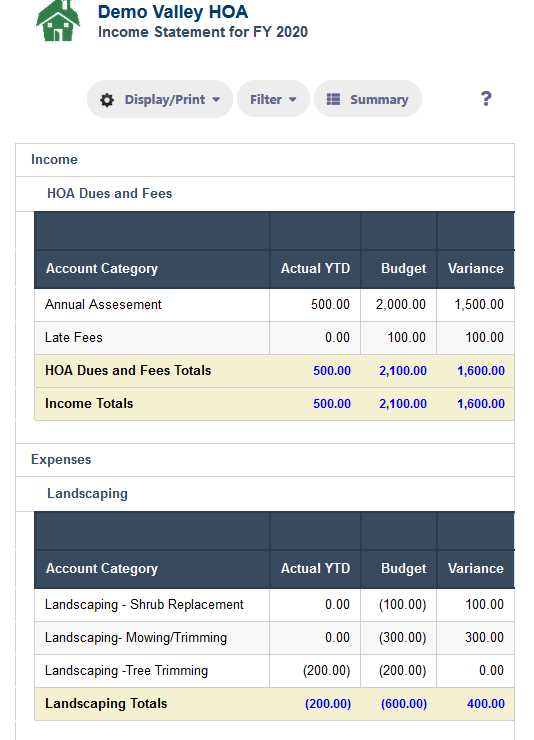 11. Balance Sheet
The balance sheet offers the quickest and easiest snapshot of your HOA finances. It lists down your organization's assets and liabilities. Check your balance sheet to get a feel for the financial strength of your community association.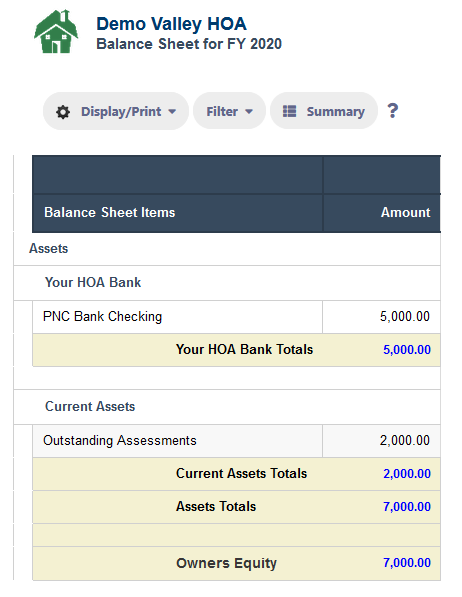 12.Tax Report
RunHOA automates the population of amounts on the various lines of your 1120HTax Form.
13.Powerful Reporting & Dashboard
Get detailed financial reports to help you better visualize all the information you need to improve your HOA. RunHOA offers support for PDF, Word and Excel documents. Also you can have summaries and graphs on your reports
Derive better insights from the valuable information in your core financials with the Dashboard
13. HOA Owner Portal
Share Read Only Reports like Income Statement, Balance Sheet etc with the Board, Owners, Accountants etc
14.Comprehensive Help
Check out the Demo Account here
HOA Finance Manager is a feature of RunHOA by CloudInfoSystems