Withdrawals
Click on Withdrawals in Financials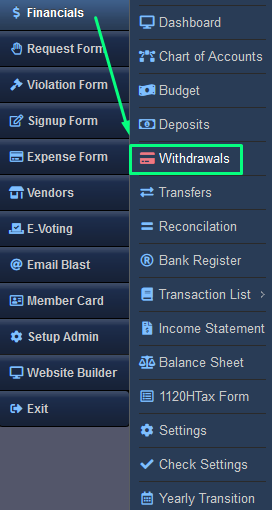 After clicking on Withdrawals, Click on to enter a new withdrawal transaction or to update a existing withdrawal transaction.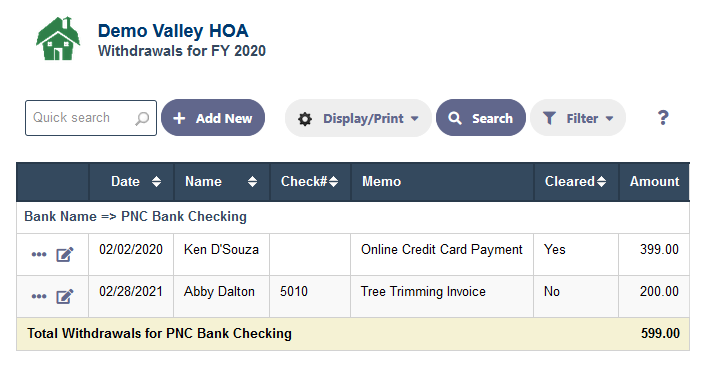 The below screen will show up for entering/updating a withdrawal transaction.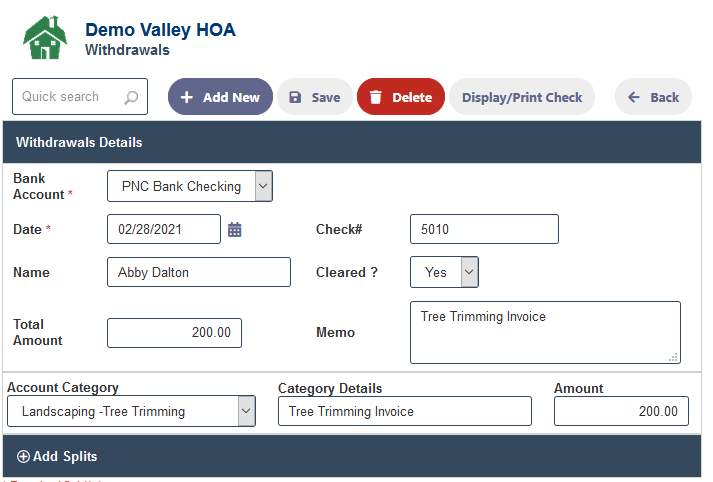 Select the Bank Account for the transaction
Enter the Date of the transaction
Enter Check#
Enter or Select  the name of the person or organization the check is given to.
Enter Yes or No on whether the payment was cleared or not.
Bank Reconcilation will look only for cleared amounts to reconcile.
Enter the Total Amount of the withdrawal transaction.
Enter the Memo for the withdrawal transaction.
Enter the Account Category. Any specific details for that category and the Amount.
If the deposit transactions applies to more than one category, repeat the step above by clicking on Add Splits.
The Total Amount should match the Category Totals.
Click on to save the withdrawal transaction.
Use  Exit to get back to the previous screen.
Use  Delete to delete an existing withdrawal transaction.
Click on Summary  to get a summarized view of your deposit transactions.
In Summary click on the various graph icons to get a graphical representation of the deposit data.
Click on Display/Print  to  export the data to a PDF, Word, Excel or for the print output.
Click on Columns to  add or delete the columns from the view or the report.
Click on Sorting if you want the data to be sorted differently then what is there currently.