Trial and Subscription
How long does a Free Trial last?
You have a 30 day free trial period for trying out all of the RunHOA features. If you do not wish to subscribe, you do not have to do anything. The access to RunHOA will expire after 30 days, if you do not subscribe.
What happens after 30 days?
After 30 days. you will need to subscribe by clicking on the Account Details link below and clicking on the Subscribe button. You have the option of paying the invoice by sending a check to CloudInfoSystems LLC or paying by card online.
How do I get into Account Details?
Log on to the RunHOA Account Module using your HOA Id, User Id and Password
Note: Only a user with administrator privileges will be able to log on to their Account Details.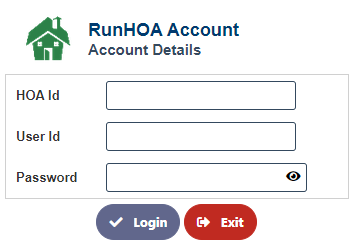 After you login in, the Subscription Payment screen will show up.

Clicking on Subscribe will bring up the Pay With Card screen.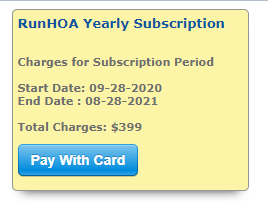 Click on Pay With Card to pay by credit card.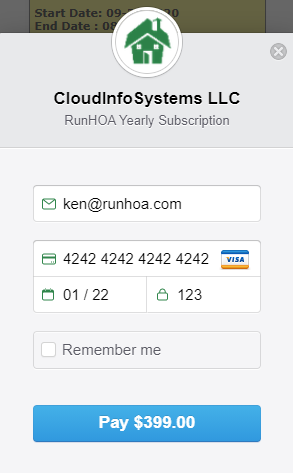 Can I pay with a Check instead?
Yes.
1. Pay by Check: Make your Check payable to CloudInfoSystems LLC and mail it to 6504 Alfano Dr, Harrisburg , PA 17112.
2. Let us know by email at support@runhoa.com that you are sending us a check.
How do I see my payment history?
After you make your payment, your invoice will be updated to show that it is paid and your payment history transaction status will also be set to paid. Clicking on Payment History will display the following screen